Paris – 14th arrondissement
Perle Rare has finalised 26 flat purchases in this arrondissement since 2005. High-quality apartments in this neighbourhood go for €11 to €13,000/m² (excluding notary fees), while the official average price is €9,710/m².*
For many, the 14th arrondissement can be summed up in one word: Montparnasse. And yet, this vast arrondissement stretches all the way to the périphérique ring road and offers a diverse array of atmospheres and styles: lively, residential, bourgeois, student-centric and proudly working-class. A place to live, to go out, to study…
6 districts:
– Pernety
– Didot – Porte de Vanves
– Montsouris – Dareau
– Jean Moulin – Porte d'Orléans
– Mouton – Duvernet
– Montparnasse – Raspail
The manyfacets of the 14th arrondissement
Of course, the streets around the Gare Montparnasse and the neighbouring tower are an inescapable part of life in the 14th. Strolling down Rue de la Gaieté, Boulevard du Montparnasse and Rue d'Odessa, it's not hard to see why this area was so popular with artists in the inter-war years. Theatres and concert halls (such as Bobino on Rue de la Gaieté), brasseries, crêperies and cinemas all add to the thriving cultural maelstrom so beloved of Montparnasse's residents. And yet, just a few blocks away – on the streets around Boulevard Edgar Quinet, for example – the atmosphere is much more peaceful. The classic townhouses whose elegant façades line these streets are home to a slightly older population, who appreciate the peace of Square Delambre and Rue Huyghens. The southern reaches of the 14th are just as peaceful, particularly the area around Parc Montsouris (on Rue Gazan). Last but not least, between the Boulevards des Maréchaux and the ring-road, the exotic architecture of the Cité Universitaire is home to a myriad of cultural activities, attracting students from all over the world.
A neighbourhood with lots going on
While the area around the Gare Montparnasse is always a safe bet for an evening on the town, the 14th arrondissement has plenty more to offer. Many of Paris's most important medical facilities are located here, including the Hôpital Broussais on Rue Didot, Hôpital Cochin on Rue du Faubourg Saint-Jacques and Hôpital Saint-Joseph. The Ecole Spéciale d'Architecture (Boulevard Raspail), Institut des Mines-Télécom (Rue Dareau) and École d'Economie de Paris (Boulevard Jourdan) are also based here. In terms of shopping and dining, residents of the 14th are spoilt for choice. Rue Daguerre is a popular spot to stop off for a bite to eat after a tour of the local boutiques. And of course, this part of town is a treasure trove of little-known parks, squares and gardens where kids can play and adults can stroll and read in peace. While they may not all be as elegant as the Parc Montsouris, these are vibrant spaces where local people meet and interact, including the squares along Rue Vercingetorix, the playgrounds and carousel on Rue Pierre Castagnou and the inviting lawns of the Jardin de la Rue de Châtillon. There is much more to the 14th arrondissement than the Gare Montparnasse and its surrounding streets, no matter how attractive those lingering memories of the 1920s and 1930s may be! Diverse and ever-changing, this is a lively, comfortable and relatively affordable part of the city.
* Source: Chambre des Notaires – 4th quarter of 2022. These are "net vendor" prices and not market prices (which are generally 4% higher)
Your property hunters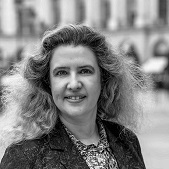 Diane Skoda,
Personal consultant
Diane, our woman from the East, is a very unique person! […]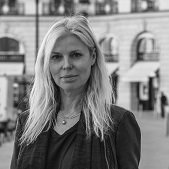 Marie Bariller,
Personal consultant
Marie held various jobs and lived in New York […]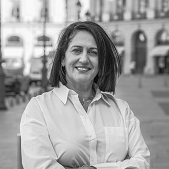 Margot Saidy,
Personal consultant
[…]
Paris 14th arrondissement