Paris – 5th arrondissement
Perle Rare has finalised 17 flat purchases in this arrondissement since 2005. High-quality apartments in this neighbourhood go for €15,000 to €18,000/m² (excluding notary fees), with a difference between the north (more expensive) and south, while the official average price is €12,660/m²*.
Also known as the Latin Quarter (Quartier Latin), the 5th arrondissement's history stretches right back to Paris's Roman roots. The 5th arrondissement has some of the capital's most important monuments, but it owes much of its reputation to its long history as home to France's leading universities and Grandes Ecoles, as well as its vibrant nightlife and atmosphere. Although prices have shot up in recent decades, the population of the 5th is still relatively diverse, ranging from students and young professionals to retirees.
4 districts:
– Val de Grâce
– Jardin des Plantes
– Saint-Victor – Jussieu
– Sorbonne – Quartier Latin
History on every street corner
It was here, on this stretch of the Left Bank of the Seine, that the modest Roman oppidum of Lutetia was founded. The medieval city sprung up around its Roman core, spreading in part to the Montagne Sainte-Geneviève – so named after the patron saint of Paris, held by popular tradition to have protected the city from the rampaging Huns. Strolling through the Latin Quarter, you never know when you're going to run into a surviving piece of Paris's history. The Arènes de Lutèce (the Roman amphitheatre on Place Monge) and Thermes de Cluny (Roman-era baths on Boulevard Saint-Michel) are two particularly striking examples. Even the layout of the streets is a reminder of earlier times: the Rue Saint-Jacques, a long straight line, was Lutetia's main thoroughfare. From (slightly) more recent times, the Hôtel de Cluny on Boulevard Saint-Michel is now home to Paris's Medieval Museum, while the Hôtel de Miramion on Quai des Tournelles was designed by Mansart, royal architect to Louis XIV. Since the arrondissement's earliest days, residents of the 5th have revelled in its history.
The student district
For a long time, the Latin Quarter had a reputation. The students who frequented these streets were known for drinking too much and causing trouble. Things are certainly more sedate these days, although the Latin Quarter is still home to a sizeable student population. No surprise really, as the 5th arrondissement is home to a host of leading universities: the Sorbonne (Rue de la Sorbonne), the Campus de Jussieu (Place Jussieu), the Collège de France (Rue Saint-Jacques), the École Normale Supérieure (Rue d'Ulm) and the École Nationale Supérieure de Chimie de Paris (Rue Pierre and Marie Curie). This academic atmosphere can be felt in the many related activities and institutions based here: libraries, such as the celebrated Bibliothèque Sainte-Geneviève (Place du Panthéon), publishing houses such as PUF (Place de la Sorbonne) and specialist bookshops such as Gibert (Boulevard Saint-Michel), which are always packed with students. But, as any resident of the 5th will tell you, there's more to the Latin Quarter than studying… Take for example the Paris Grand Mosque and its exquisite tearoom (Place du Puits de l'Ermite), the Jardin des Plantes and its magnificent recently redeveloped Gallery of Evolution (Rue Cuvier) or legendary sports shop Le Vieux Campeur (Rue des Écoles), a mecca for fans of the great outdoors which pre-dates today's popular chain stores by decades.
A student neighbourhood which is also the historic heart of Paris, the 5th arrondissement's winding streets and prestigious avenues have a charm which is all their own. This is a part of town which never fails to surprise, even for long-time residents.
* Source: Chambre des Notaires – 4th quarter of 2022. These are "net vendor" prices and not market prices (which are generally 4% higher)
Your property hunters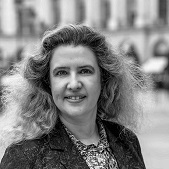 Diane Skoda,
Personal consultant
Diane, our woman from the East, is a very unique person! […]
Surélie Penel,
Personal consultant
Born into a family of Parisian architects, Surélie was trained […]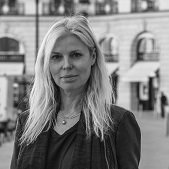 Marie Bariller,
Personal consultant
Marie held various jobs and lived in New York […]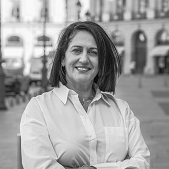 Margot Saidy,
Personal consultant
[…]
Paris 5th arrondissement