Neuilly sur Seine
Perle Rare has finalised 17 flat purchases in this arrondissement since 2005. High-quality apartments in this neighbourhood go for €14 to €17,000/m² (excluding notary fees), while the official average price is €11,300/m².*
As a result of the way the town has grown up over the years, Neuilly is a patchwork of different neighbourhoods with no clearly-defined centre. Those neighbourhoods include the area around the Place du Marché-Sablonville, Bagatelle-Saint-James, the bridge district, the areas around Rue Louis-Philippe and Rue des Huissiers, and of course the Ile de la Jatte.
4 districts:
– Parc de Neuilly
– Plaine des Sablons
– Saint-James – Madrid
– Charles Laffitte
Leafy, calm suburbia
The most highly-coveted streets are those immediately around the Bois de Boulogne and, to a slightly lesser extent, those around Saint-James and Le Parc. In terms of amenities (including shops and schools), the most sought-after zone remains the Avenue du Roule. The Ile de la Jatte is a former industrial district which has seen property prices rise considerably in recent years, despite its relative isolation and lack of shops.
Life in Neuilly: Neuilly is a charming town with several little centres (Pont de Neuilly, Sablons, Bagatelle and Saint-James). It feels like a big village on the edge of Paris. The many grocery stores, delis and outdoor markets help to preserve this small-town atmosphere. Things I love about Neuilly-sur-Seine: Architecture, proximity to Paris and La Défense. Metro Line 1, which is so convenient. The feeling of safety. The great range of food stores. The abundant greenery and wide pavements.
* Source: Chambre des Notaires – 4th quarter of 2022. These are "net vendor" prices and not market prices (which are generally 4% higher)
Your property hunters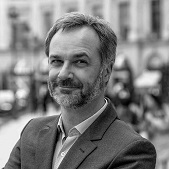 Georges-L. Duquesne,
Director and co-founder
George-Louis has 20 years' experience in the banking and personal mortgage sector […]
Élisabeth Belloni,
Personal consultant
Elisabeth is an incurable car addict who worked in the automobile sector […]
Neuilly sur Seine EN