Paris – 4th arrondissement
Perle Rare has finalised 17 flat purchases in this arrondissement since 2005. High-quality apartments in this neighbourhood go for €15,000 to €18,000/m² (excluding notary fees), with a big difference between the Arsenal district in the south-east (less expensive) and the rest (the Marais proper and the Ile Saint-Louis), while the official average price is €13,000/m².*
Paris's 4th arrondissement is a patchwork of styles and atmospheres that draws a very diverse crowd. The area is fairly bourgeois but with a lively, youthful feel and a number of distinctive, tight-knit communities. Home to some of Paris's oldest and newest monuments, the 4th is as popular with tourists as it is with dyed-in-the wool Parisians.
4 districts:
– Saint-Gervais
– Arsenal
– Saint-Merri
– Les Iles
The many facets of the 4th arrondissement
The 4th arrondissement covers most of the Ile de la Cité, the Ile Saint-Louis and the south of the Marais district, home to the grand townhouses of France's aristocracy from the late Middle Ages onwards. Despite this rich historical heritage, the arrondissement has changed over the centuries. Surely the most emblematic of these changes was the construction of the iconic Centre Pompidou, with its audacious architectural innovations. It stands in marked contrast to the elegant classicism of the Place des Vosges and the hôtels particuliers of the Marais (such as the Hôtel de Sully on Rue Saint-Antoine) not to mention the Gothic splendour of the Hôtel des Archevêques de Sens on Rue du Figuier. Similarly, the peace and tranquillity of the Ile Saint-Louis is welcome respite from the crowds of tourists who flock to Notre Dame and the Ile de la Cité.
One of the arrondissement's great strengths is its truly exceptional location, with apartments directly overlooking the Seine, the Quai aux Fleurs and the Quai de Bourbon, as well as luxurious flats in quieter, less grand streets such as Rue Aubriot and Rue Pecquay.
An arrondissement with a strong identity
Local residents are also proud to draw attention to communities which have unwaveringly maintained their own identities. That includes the Jewish quarter around Rue des Rosiers and Rue Pavée, with traditional restaurants and grocery stores adored by locals and tourists alike. Meanwhile, the Rue Sainte-Croix de la Bretonnerie is the epicentre of the so called gay district. This trendy neighbourhood continues to attract a diverse array of people and specialist brands. Nonetheless, some local residents have been disappointed to see so many of their charming local cafés turned into high-end fashion boutiques. One thing is for sure: strolling its streets is the best way to uncover the 4th's identity, whether it's loud and proud or a little more discreet in character. And while some areas are very calm after dark (particularly the Ile Saint-Louis and the Place des Vosges), others come to life when the sun goes down, such as the Rue Sainte-Croix de la Bretonnerie (home to the Théâtre du Point-Virgule) and the Rue de la Verrerie with its many bars.
At once bourgeois and hip, the 4th arrondissement is never dull. In spite of its countless historical monuments, the 4th is anything but a "living museum". This is a lively district, and one residents are proud to call home.
* Source: Chambre des Notaires – 4th quarter of 2022. These are "net vendor" prices and not market prices (which are generally 4% higher)
Your property hunters
Nathalie Caron,
Personal consultant
Nathalie is the globetrotter of the team. Her various positions in the aeronautical sector […]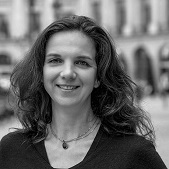 Karine Warman,
Personal consultant
A law graduate and music lover, Karine has devoted over a decade to […]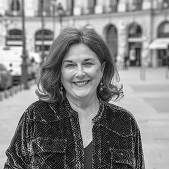 Catherine Heuzé,
Personal consultant
Catherine is a dynamic and thoughtful woman, former journalist […]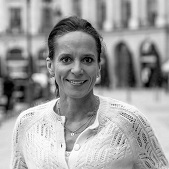 Constance Perrin,
Personal consultant
Constance is an ultra dynamic woman, passionate about decoration […]
Paris 4th arrondissement